Virtual Sequence and Virtual Sequencers
A virtual sequence is nothing but a container that starts multiple sequences on different sequencers.
Virtual sequencer controls other sequencers and it is not attached to any driver.
Virtual Sequence and Virtual Sequencer Usage
 In SOC, there could be different modules that interact with different protocols So, we need different drivers to drive corresponding interfaces. So we usually keep separate agents to handle the different protocols. So, we need to execute sequences on corresponding sequencers.
Another example can be thought of as multiple cores in SOC. There can be multiple cores present in SOC that can handle different operations on input provided and respond to the device differently. In this case, as well, different sequence execution becomes important on different sequencers.
A virtual sequence is usually executed on the virtual sequencer. A virtual sequence gives control to start different sequences.
It is recommended to use a virtual sequencer if you have multiple agents and stimulus coordination is required.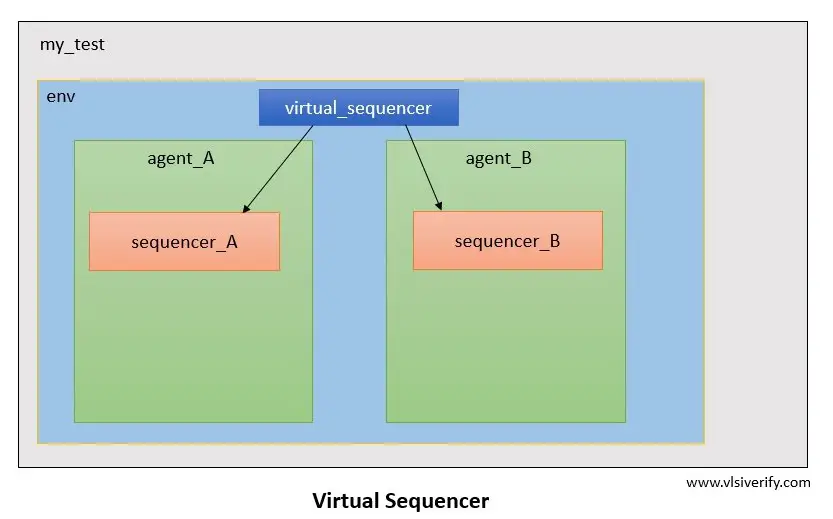 Why are the virtual_sequence and virtual_sequencer named virtual?
System Verilog has virtual methods, virtual interfaces, and virtual classes. "virtual" keyword is common in all of them. But, virtual_sequence and virtual_sequencer do not require any virtual keyword. UVM does not have uvm_virtual_sequence and uvm_virtual_sequencer as base classes. A virtual sequence is derived from uvm_sequence. A virtual_sequencer is derived from uvm_sequencer as a base class.
Virtual sequencer controls other sequencers. It is not attached to any driver and can not process any sequence_items too. Hence, it is named virtual.
The complete code is available on the EDA playground executable link for the below examples.
Without virtual sequence and virtual sequencer
// No Virtual Sequencer
class core_A_sequencer extends uvm_sequencer #(seq_item);
  `uvm_component_utils(core_A_sequencer)
  
  function new(string name = "core_A_sequencer", uvm_component parent = null);
    super.new(name, parent);
  endfunction
  
endclass

class core_B_sequencer extends uvm_sequencer #(seq_item);
  `uvm_component_utils(core_B_sequencer)
  
  function new(string name = "core_B_sequencer", uvm_component parent = null);
    super.new(name, parent);
  endfunction
endclass

// base_test
class base_test extends uvm_test;
  env env_o;
  
  core_A_seq Aseq;
  core_B_seq Bseq;
  
  `uvm_component_utils(base_test)
  
  function new(string name = "base_test", uvm_component parent = null);
    super.new(name, parent);
  endfunction
  
  function void build_phase(uvm_phase phase);
    super.build_phase(phase);
    env_o = env::type_id::create("env_o", this);
  endfunction
 
  task run_phase(uvm_phase phase);
    phase.raise_objection(this);
    Aseq = core_A_seq::type_id::create("Aseq");
    Bseq = core_B_seq::type_id::create("Bseq");
    
    Aseq.start(env_o.agt_A.seqr_A);
    Bseq.start(env_o.agt_B.seqr_B);
    
    phase.drop_objection(this);
  endtask
endclass
UVM_INFO sequence.sv(10) @ 0: uvm_test_top.env_o.agt_A.seqr_A@@Aseq [core_A_seq] core_A_seq: Inside Body
UVM_INFO driver.sv(38) @ 0: uvm_test_top.env_o.agt_A.drv_A [core_A_driver] Driving from core A
UVM_INFO sequence.sv(30) @ 50: uvm_test_top.env_o.agt_B.seqr_B@@Bseq [core_B_seq] core_B_seq: Inside Body
UVM_INFO driver.sv(55) @ 50: uvm_test_top.env_o.agt_B.drv_B [core_B_driver] Driving from core B
With virtual sequence and without a virtual sequencer
// virtual sequence
class virtual_seq extends uvm_sequence #(seq_item);
  core_A_seq Aseq;
  core_B_seq Bseq;
  
  core_A_sequencer seqr_A;
  core_B_sequencer seqr_B;
  
  `uvm_object_utils(virtual_seq)
  
  function new (string name = "virtual_seq");
    super.new(name);
  endfunction
  
  task body();
    `uvm_info(get_type_name(), "virtual_seq: Inside Body", UVM_LOW);
    Aseq = core_A_seq::type_id::create("Aseq");
    Bseq = core_B_seq::type_id::create("Bseq");
    
    Aseq.start(seqr_A);
    Bseq.start(seqr_B);
  endtask
endclass

// No Virtual sequencer
class core_A_sequencer extends uvm_sequencer #(seq_item);
  `uvm_component_utils(core_A_sequencer)
  
  function new(string name = "core_A_sequencer", uvm_component parent = null);
    super.new(name, parent);
  endfunction
  
endclass

class core_B_sequencer extends uvm_sequencer #(seq_item);
  `uvm_component_utils(core_B_sequencer)
  
  function new(string name = "core_B_sequencer", uvm_component parent = null);
    super.new(name, parent);
  endfunction
endclass
UVM_INFO sequence.sv(56) @ 0: reporter@@v_seq [virtual_seq] virtual_seq: Inside Body
UVM_INFO sequence.sv(10) @ 0: uvm_test_top.env_o.agt_A.seqr_A@@Aseq [core_A_seq] core_A_seq: Inside Body
UVM_INFO driver.sv(38) @ 0: uvm_test_top.env_o.agt_A.drv_A [core_A_driver] Driving from core A
UVM_INFO sequence.sv(30) @ 50: uvm_test_top.env_o.agt_B.seqr_B@@Bseq [core_B_seq] core_B_seq: Inside Body
UVM_INFO driver.sv(55) @ 50: uvm_test_top.env_o.agt_B.drv_B [core_B_driver] Driving from core B
With virtual sequence and virtual sequencer using p_senquencer handle
// Virtual sequence
class virtual_seq extends uvm_sequence #(seq_item);
  core_A_seq Aseq;
  core_B_seq Bseq;  
  
  core_A_sequencer seqr_A;
  core_B_sequencer seqr_B;
  `uvm_object_utils(virtual_seq)
  `uvm_declare_p_sequencer(virtual_sequencer)
  
  function new (string name = "virtual_seq");
    super.new(name);
  endfunction
  
  task body();
    `uvm_info(get_type_name(), "virtual_seq: Inside Body", UVM_LOW);
    Aseq = core_A_seq::type_id::create("Aseq");
    Bseq = core_B_seq::type_id::create("Bseq");
    
    Aseq.start(p_sequencer.seqr_A);
    Bseq.start(p_sequencer.seqr_B);
  endtask
endclass

// Virtual p_sequencer
class virtual_sequencer extends uvm_sequencer;
  `uvm_component_utils(virtual_sequencer)
  core_A_sequencer seqr_A;
  core_B_sequencer seqr_B;

  function new(string name = "virtual_sequencer", uvm_component parent = null);
    super.new(name, parent);
  endfunction
endclass 
UVM_INFO sequence.sv(56) @ 0: uvm_test_top.env_o.v_seqr@@v_seq [virtual_seq] virtual_seq: Inside Body
UVM_INFO sequence.sv(10) @ 0: uvm_test_top.env_o.agt_A.seqr_A@@Aseq [core_A_seq] core_A_seq: Inside Body
UVM_INFO driver.sv(38) @ 0: uvm_test_top.env_o.agt_A.drv_A [core_A_driver] Driving from core A
UVM_INFO sequence.sv(30) @ 50: uvm_test_top.env_o.agt_B.seqr_B@@Bseq [core_B_seq] core_B_seq: Inside Body
UVM_INFO driver.sv(55) @ 50: uvm_test_top.env_o.agt_B.drv_B [core_B_driver] Driving from core B
With virtual sequence and virtual sequencer but without using p_senquencer handle
// virtual sequence
class virtual_seq extends uvm_sequence #(seq_item);
  core_A_seq Aseq;
  core_B_seq Bseq;
  
  core_A_sequencer seqr_A;
  core_B_sequencer seqr_B;
  `uvm_object_utils(virtual_seq)
    
  function new (string name = "virtual_seq");
    super.new(name);
  endfunction
  
  task body();
    env env_s;
    `uvm_info(get_type_name(), "virtual_seq: Inside Body", UVM_LOW);
    Aseq = core_A_seq::type_id::create("Aseq");
    Bseq = core_B_seq::type_id::create("Bseq");
    
    // virtual_sequencer is created in env, so we need env handle to find v_seqr.
    if(!$cast(env_s, uvm_top.find("uvm_test_top.env_o"))) `uvm_error(get_name(), "env_o is not found");
        
    Aseq.start(env_s.v_seqr.seqr_A);
    Bseq.start(env_s.v_seqr.seqr_B);
  endtask
endclass

// virtual_sequencer
class virtual_sequencer extends uvm_sequencer;
  `uvm_component_utils(virtual_sequencer)
  core_A_sequencer seqr_A;
  core_B_sequencer seqr_B;

  function new(string name = "virtual_sequencer", uvm_component parent = null);
    super.new(name, parent);
  endfunction
endclass 
UVM_INFO sequence.sv(55) @ 0: uvm_test_top.env_o.v_seqr@@v_seq [virtual_seq] virtual_seq: Inside Body
UVM_INFO sequence.sv(10) @ 0: uvm_test_top.env_o.agt_A.seqr_A@@Aseq [core_A_seq] core_A_seq: Inside Body
UVM_INFO driver.sv(38) @ 0: uvm_test_top.env_o.agt_A.drv_A [core_A_driver] Driving from core A
UVM_INFO sequence.sv(30) @ 50: uvm_test_top.env_o.agt_B.seqr_B@@Bseq [core_B_seq] core_B_seq: Inside Body
UVM_INFO driver.sv(55) @ 50: uvm_test_top.env_o.agt_B.drv_B [core_B_driver] Driving from core B